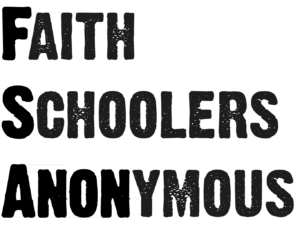 Contributors to this site are able to post anonymously, but any blog you submit must be your own work, not someone else's, and we may take steps to verify this before publication. In some circumstances (for instance, where specific details such as names or dates are included) we sometimes may also seek to verify certain information.
We reserve the right to edit content in order to correct typos, clarify anything that isn't clear, or ensure that anonymity is preserved.
If you have a blog or even just a case study that you'd like us to post, please fill in the form on the Write a Blog page.
If you are at all concerned about your safety and anonymity when submitting a blog, then do get in touch with us to discuss it. You can also read our Stay Safe Online page.
Information collection
When you are on faithschoolersanonymous.uk, and are asked for personal information, you are sharing that information with Humanists UK alone unless stated otherwise. We may collect the following information from visitors:
• IP addresses for analytics purposes (we do not store these with your profile or membership record)
• Any information volunteered by the visitor, such as name, address, email address, etc.
Google Analytics
When someone visits this site we collect standard internet log information and details of visitor behaviour – such as which pages are visited, and how long is spent on each one. We do this to find out things such as the number of visitors to the various parts of the site. We collect this information in a way which does not personally identify anyone. These website statistics are collected by Google Analytics. See below for more information about cookies, and here for a way to opt out of Google Analytics on all websites you visit.
Cookies on the Humanists UK site
Your web browsers allows control of most cookies through the browser settings. To find out more about cookies, including how to see what cookies have been set and how to manage and delete them, visit www.allaboutcookies.org.
More information
See Humanists UK's Privacy Policy for more information.