"Rather than defending this appalling record of disproportionately turning away poorer children at the gate, wouldn't the Archbishop be better off doing something about it?"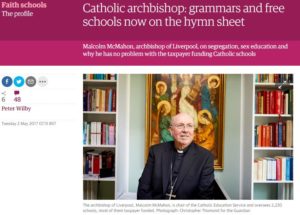 This morning (2 May 2017), the Education Guardian published a probing (and excellent) interview by Peter Wilby with Malcolm McMahon, the Roman Catholic Archbishop of Liverpool and chair of the Catholic Education Service (CES). The Archbishop's views on the role and ethos of the CES' schools should trouble us all. Some examples.
Wilby rightly notes that the CES' model approach to teaching relationships and sex education to children contains no mention of 'homosexual' or 'gay' at any stage, and when asked whether or not Catholic schools teach about gay relationships, the Archbishop limply replies that 'Christian teaching "is at the centre of our schools"'. So far, so worrying. And it doesn't get any better.
Asked if some pupils at Catholic schools have same-sex parents, the Archbishop gives the quite remarkable response: 'Why would same-sex parents want to send their children to a Catholic school?' Well, if the views of the Archbishop are the same as those espoused by his schools, why indeed.
This response may not be that surprising, but it is no less scandalous for it. This is a man responsible for overseeing the education of more than 800,000 children, and he is openly admitting that the 2,000 publicly funded schools in his charge are not necessarily appropriate for same-sex parents and their children. The Archbishop claims that Catholic schools would nonetheless treat 'them' with respect, but one wonders how much respect these schools can really be showing to people whose existence is ignored in everyday teaching or whose sexuality is described as sinful.
Moving on, the Archbishop appeared more than a little defensive when asked about the record of Catholic schools on serving the most needy in their communities. After McMahon misleadingly claimed that 'the proportion of pupils in Catholic schools from deprived areas…[is] above average', Wilby puts it to him that given the location of many Catholic schools in poor urban areas, they should actually be admitting far more poorer pupils than they do. The Archbishop responds: 'You do this for a living, do you? You ask questions based on inaccurate information?' A nerve struck.
Far from being 'based on inaccurate information', Wilby's questioning is precisely right. The evidence consistently reveals that Catholic schools admit far fewer poor children than they should given their areas. For instance, research conducted by the Fair Admissions Campaign using official government data found that Catholic schools admit a staggering 28% fewer children eligible for Free School Meals than they should given their local areas, while the Sutton Trust reported earlier this year that 'faith' schools (with Catholic schools among the worst offenders) are 'three times as socially selective compared to their catchment area than non-faith schools'.
And we must be careful not to get sucked in by the CES' consistently misleading language on this. As Wilby suggests, whilst Catholic schools are more likely to be situated in more deprived areas, this is not the same thing as being more likely to admit deprived pupils. In fact, analysis clearly shows that Catholic schools are even more likely to be in deprived areas than their pupils are. Situated in deprived areas they may be, but welcoming of deprived families they are not.
Rather than defending this appalling record of disproportionately turning away poorer children at the gate, not to mention children from certain ethnic minorities, wouldn't the Archbishop be better off doing something about it? He doesn't seem to think so.
Nor, indeed, is he ready to give up on the transparently false assertion that 'by canon law, schools are forbidden to turn away Catholic parents in favour of non-Catholics'. This was the claim that ultimately led the Government to announce that it will be dropping the 50% cap on religious selection and no longer requiring new religious schools to keep at least half of their places open to all local children, irrespective of religion or belief. No matter that the CES' canon-law claim has absolutely no basis in fact (see the British Humanist Association's excellent briefing on this for details). And no matter that the 50% cap was a demonstrable success, significantly boosting both integration and the access of local families to their local schools, contrary to the Government's own false assertions. 
Wilby's parting advice in his article is that if one is to find themselves speaking with the Archbishop, 'it's perhaps best to avoid the subject of who is allowed to go to Catholic schools, or what goes on behind their walls.'  Unfortunately, this is advice that the Government already seem to be acting upon.
FSA team