"Every single month, and it tends to be more regular even than that, a new story appears of a school in England, for reasons of religion, badly failing its pupils"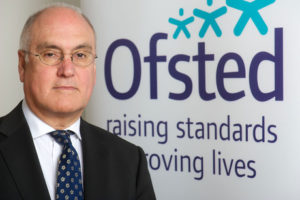 Last week Ofsted's Chief Inspector Sir Michael Wilshaw sent the Education Secretary Nicky Morgan a letter expressing his concern about the 'urgent and escalating' problems caused by unregistered faith schools. As with his previous letters on this issue, Sir Michael focused primarily on Muslim schools, in line with Ofsted's clear policy of prioritising the Government's 'Prevent' and Counter-Extremism strategies in its work.
Unlike his previous letters, however, this latest missive rightly points out that problems are not simply confined to unregistered Muslim schools operating illegally and outside of the system, but to fully registered independent Muslim schools too.
This is not before time.
In January of this year, for instance, an independent Muslim school in Tower Hamlets, east London, was reported for having books in its library that 'promote inequality of women and punishments, including stoning to death, which are illegal in Britain' and which 'undermine the active promotion of the rule of British law and respect for other people'.
In February, a similar school in Luton was found to be 'undermining British values' as a result of its 'unequal treatment of girls and boys'. Not only were girls found to 'not have the same access to laboratory facilities that the boys have', but they were also 'limited to knitting and sewing' in design and technology classes.
In March, a private Muslim school in Dewsbury was investigated for teaching an 'extreme form of Islam' which, according to Sky News, included the distribution of literature which 'warn[ed] Muslims not to adopt British customs'  and claimed that 'Jews are engaged in a conspiracy to take over the world'.
In April, a school visited by inspectors was reported to be segregating male and female staff and governors during meetings 'through the use of a dividing screen across the middle of the room', something which Sir Michael also wrote to the Education Secretary about so as to highlight the fact that similar policies appear to be in place at a number of other independent schools around the country.
In May, inspectors moved to shut down a school in Staffordshire after being alerted to the fact that children were being put 'at risk of exposure to extremism and radicalisation'. Similar action was reported in relation to illegal schools in London, Birmingham, Luton, and Wolverhampton.
In June, Ofsted reported that at a school in Birmingham inspectors had discovered 'a large number of copies of a leaflet containing highly concerning and extremist views, such as "Music, dancing and singing are acts of the devil and prohibited"'. The same school was previously criticised for the segregation of male and female governors.
By now, you get the picture. Every single month, and it tends to be more regular even than that, a new story appears of a school in England, for reasons of religion, badly failing its pupils. And this is by no means a problem exclusive to Muslim schools. A similar exercise could just as easily have been carried out with regard to Christian or Jewish schools, as has been evidenced by the previous blog posts uploaded to this site.
It's also worth saying that for every school mentioned here, there are clearly a number of Muslim schools that are delivering an education with which, rightly or wrongly, Ofsted have no problem. The point, though, is that in any system which allows schools to be subject to so significant a degree of religious influence, as our system does, offences are going to be committed and they are going to be committed often. It is inevitable.
It is therefore clear that whilst the Government must of course continue to pursue a counter-extremism strategy – and in doing so it naturally justified in focussing its attention predominantly on Muslim schools –engaging in a game of 'faith' school whack-a-mole, which deals only with problems as and when they arise, can never be successful. If it really wants to solve the problem of extremism and intolerance in the classroom, it must be proactive and widen its scope, acknowledging once and for all that dismantling the freedoms afforded within the 'faith' school sector as a whole is the only way forward.
FSA team