A chilling and thorough insight into the experiences of pupils at Accelerated Christian Education (ACE) schools. Excellent journalism and a testament to the courage and determination of former ACE pupils in trying to prevent more children from having to go through what they did.
You can listen here:  https://drive.google.com/file/d/0B_zKmKBC3bNWcjNlY1dBNU9aQzQ/view?usp=sharing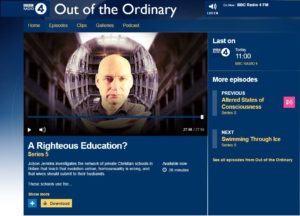 For more information on ACE schools and the experiences of those who have attended them, read the blogs previously posted on this site.
FSA staff